World IP Day – Visionary Innovators!
Did you know that IP has been described by the Financial Times as one of the key drivers of business competitiveness in the 21st century!
The Sunshine Coast Queensland has won the opportunity to host the international World IP Day 2012 for Queensland. Come and learn about Brand Protection, Trade Marks, Copyright, protecting your ideas and working with other forms of Intellectual property to gain a competitive edge.
The Sunshine Coast will be deliver a series of workshops and information seminars based on the internationally celebrated WORLD IP DAY around this year's theme of 'Visionary Innovators'.
Come and learn about:
Protecting your ideas by using Intellectual Property to deliver a competitive edge.
Becoming a Visionary Innovator!
Brand protection.
Trademarks.
Copyright.
How to make your ideas a reality.
Funding sources for innovative ideas.
Date: 26th April 2012
Time: 1:00pm to 5:00pm – Followed by an (optional) business networking event from 5:30pm to 6:30pm and an opportunity to tour the new and brilliantly innovative 'Sustainability Discovery Centre' at Sunshine Coast TAFE.
Venue: Sunshine Coast TAFE, 34 Lady Musgrave Drive, Mountain Creek QLD 4557
The Presenters:
Paul Loeffler-White, State Manager, IP Australia.
Paul Brennan – Brennans Solicitors.
Mark Paddenbrug, CEO, Innovation Centre Sunshine Coast.
Geoff Moller, Geosys Pty Ltd, Business Consulting.
To find out more visit www.worldIPday2012.com.au
---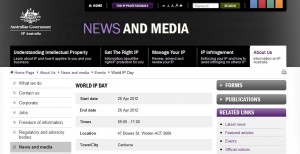 World IP Day was introduced by WIPO in 2001 to raise awareness of the role intellectual property plays in our daily lives, and to celebrate the contribution made by innovators and artists to the development of societies around the globe. World IP Day is celebrated worldwide. Each year it brings together people in over 180 countries to participate in a variety of events and activities.